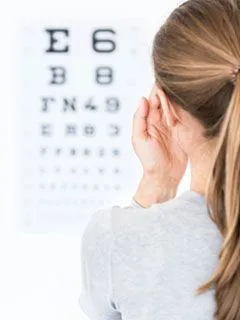 At Marc H. Sherman, O.D. F.C.O.V.D., our entire Longwood optometry team are committed to providing advanced vision care in a professional and comfortable environment. As an optometrist in Longwood, our primary eye care service includes a complete eye exam that analyzes eye health and vision function. In addition to eye exams and vision testing, we provide testing for glaucoma, cataracts and macular degeneration. Our Longwood optometrist also offers glasses, contact lenses, and pre- and post-operative care.
Eye Exams
We take even routine eye exams very seriously. During a yearly or bi-yearly examination, our Longwood patients will receive a patient history review, a series of vision and eye tests, assessments of eye focusing and movement, and an eye health evaluation. Our optometrist will discuss any additional testing that may be required to diagnose an eye disease or condition. Call us a today at 407-332-8255 to schedule an appointment.
VISION THERAPY
What is vision therapy?
Some visual conditions cannot be treated adequately with just glasses, contact lenses and/or patching, and are best resolved through a program of Vision Therapy
Vision therapy (also called vision training, orthoptics, eye training, and eye exercises) is a clinical approach for correcting and ameliorating the effects of eye movement disorders, nonstrabismic binocular dysfunctions, focusing disorders, strabismus, amblyopia, nystagmus, and certain visual perceptual (information processing) disorders. The practice of vision therapy entails a variety of non-surgical therapeutic procedures designed to modify different aspects of visual function. Its purpose is to cure or ameliorate a diagnosed neuromuscular, neurophysiological, or neurosensory visual dysfunction.
Vision therapy typically involves a series of treatments during which carefully planned activities are carried out by the patient under professional supervision in order to relieve the visual problem. The specific procedures and instrumentation utilized are determined by the nature and severity of the diagnosed condition. Vision therapy is not instituted to simply strengthen eye muscles, but rather is generally done to treat functional deficiencies in order for the patient to achieve optimal efficiency and comfort.
Contact Lenses
Not sure that glasses are for you? Ask our Longwood staff about contact Lenses. Advances in the field of optometry have produced a variety of different types of contact lenses with a range of benefits. Rigid gas-permeable (RGP), daily-wear soft, extended-wear, extended-wear disposable, and planned replacement are the various types of contact lens options available today. Our Longwood optometrist will discuss the various options with you to determine which type will best fit your needs and lifestyle. Schedule your examination today by calling 407-332-8255. They are many advantages to consider when determining if contact lenses are right for you and our knowledgeable staff is here to answer any questions.